Give for a Greater Cause
Itís that age-old gift giving dilemma. What do you give the person who has everything? We have the answer. Give the gift of HOPE for a family whose child has cancer.
More than 13,000 children in the United States will be diagnosed with cancer this year. And for the families of these children, the diagnosis and the disease are just one of the many struggles faced. Financial strain is significant for these families who often have to travel or move to get the very best treatment for their child. Usually at least one parent has to give up their employment to care for a child with cancer. Then there are the expenses and co-pays that are not covered by insurance. When the focus of the family needs to be on healing their child, financial concerns should not be a distraction.
That is where the Blue Butterfly Fund helps. Since we formed in January 2004, we have helped more than 20 families with direct financial support. Every quarter we sponsor at least one family by paying for travel costs, non-covered medical bills, and living expenses that improve the overall quality of life for the family.
There are many great non-profit organizations out there, but there are few that have the low overhead of a grassroots charity like ours. When you donate money to the Blue Butterfly Fund, you can be sure it will go to helping a real family in the very real, very serious medical crisis of childhood cancer.
Will you help us offer the wings of HOPE to a family whose child has cancer?
Three Alternative Gifting Opportunities
1. Honor Donation

Make a donation in honor or in memory of someone, and we will send the honor recipient a special card. We will also send them either a temporary tattoo or a static sticker with our logo.

2. Blue Butterfly Fund T-shirt

Another way that you can give for a greater cause is by purchasing our Blue Butterfly Fund T-shirt with our logo, designed by Nancy Cleaver of PenSylvania Calligraphy.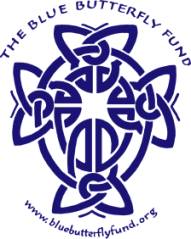 Available in two styles:

BBF logo short sleeve pigment dyed t-shirt (runs large). Periwinkle: $12

†

BBF logo ladies' longsleeve scoopneck (runs small). Light blue (size S, M, L, XL): $18

3. Blue Butterfly Fund Pendant

Our Blue Butterfly Fund pendant is another great way to be a part of our web of love. By wearing the pendant you carry the message of HOPE and love whereever you go. These make an excellent gift for the jewelry lover on your list. By special order we can also offer the pendant in 14K gold.

Marc Williams Small Silver Pendant- Blue Butterfly Fund Logo: $80- Discontinued

Marc Williams Large Silver Pendant- Blue Butterfly Fund Logo: $92