Please pray for the children listed on this page who are undergoing treatment or tests for a catastrophic illness.


Please click here to go directly to prayer request for:

If you would like to make a prayer request, please consider including the following information with your prayer request:
The child's name
The child's age
The child's diagnosis
The child's treatment
Where the child is being treated
Your relationship to the child (please ask parents for permission first)
Specific needs (for example, upcoming procedures or test, surgeries, other illness or problems that are a result of treatment, etc.)
If you have a jpeg picture of the child that you would like to include that would be great.
Please email if you would like to make a prayer request: elizabeth (at) bluebutterflyfund (dot) org

Terrance Please pray for Terrance who is recovering from treatment for neuroblastoma.
E.S. (on behalf of Terrance's mother)

Please pray for Katelyn who is undergoing treatment for leukemia. She will be undergoing a bone marrow transplant soon.
E.S. (on behalf of Katelyn's mother)

Tyler Please pray for Tyler who is undergoing treatment for leukemia. He is having a rough time right now and is unable to attend school regularly.
E.S. (on behalf of Tyler's mother)

Demarcus is being treated for leukemia. Please pray for total remission.
E.S. (on behalf of Demarcus' mother)

Dakota Dakota is receiving chemotherapy for a Wilm's tumor. He has nerve damage to his spine from his previous treatment. Please pray for his complete healing and recovery.
E.S. (on behalf of Dakota's mother)

Paige Paige is being treated for leukemia. She will be undergoing a bone marrow transplant in the upcoming months. Please pray.
E.S. (on behalf of Paige's mother)

Makeira is recovering from treatment for neuroblastoma which has caused damage to her bladder. Please pray for Makeira.
E.S. (on behalf of Makeira's mother)

Please pray for Geoffrey. He is recovering from treatment for leukemia.
E.S. (on behalf of Geoffrey's mother)

Please pray for Steven. He is undergoing surgery to have a tumor removed from behind his eye. His mother has also suffered from a car accident recently.
E.S. (on behalf of Steven's mother)

Please pray for Brian. He is receiving chemo right now and will be undergoing a bone marrow transplant in May.
Teresa (Brian's mother)

Briahna was born on November 14, 2002. We had all the test performed to make sure nothing was wrong. So we were very surprised when she was Down Syndrome.
Down Syndrome children are wonderful, loving children. She is so special to us, but Briahna has had health problems since day one. Briahna has overcome many illnesses in her young life, but what she is going through now is the worst.
Briahna was diagnosed with AML leukemia in June, 2005. The doctors said it was 90% curable. She went into remission right away and had many months of chemotherapy only to come out of remission in February, 2006.
Briahna is going to have a bone marrow transplant (the first of its kind in the country). Briahna's next challenge is finding a donor. Please pray that we do find a transplant and that she will survive this difficult transplant.
Laura (Briahna's mother)

Jerry Jerry is receiving high-dose chemotherapy and it has been very hard on his body. Please keep him in your prayers.
Jerry Sr. (Jerry Jr.'s dad)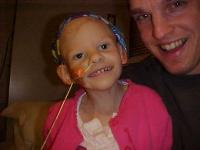 Victoria just went through surgery to get a g-tube. She will be receiving high-dose chemotherapy in the near future. Please keep her in your prayers.
Stephanie (Victoria's mom)

Chase will be receiving a bone marrow transplant March 17th and will be in the hospital 4-6 weeks. Please keep him in your prayers.
Tiffany (Chase's mom)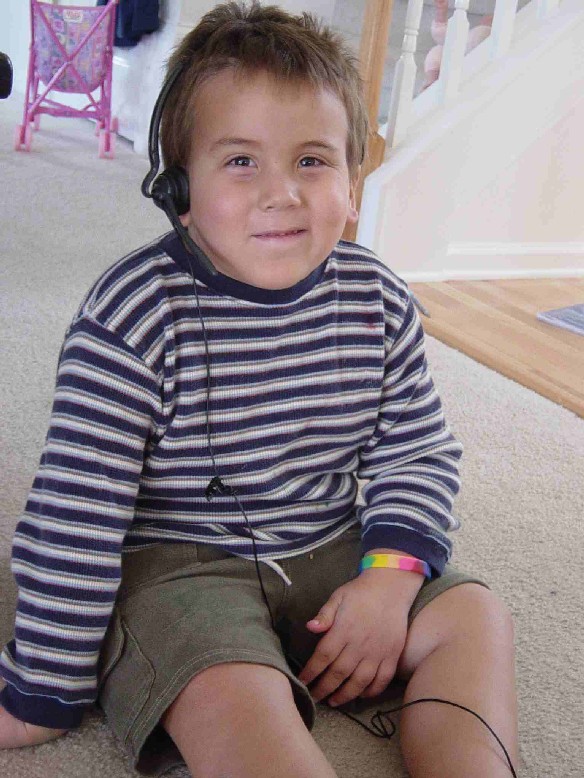 Jake was diagnosed with an anaplastic astrocytoma brain tumor at 15 months. We are using a nutritional/homeopathic approach after 3+ years of standard and experimental chemotherapy. Please pray for Jake that he may continue to amaze his doctors!

Rachel (Jake's Mom)

My foster brother Isaak was infected with leukemia at the age of 6 he was treated at S.U.N.Y. He took a lot of medicine. Thankfully the lord was watching over him because he is now 8 and in remision. He has been in remision for a couple years of now, and we all wish the best luck for him. Hope he stays in remision for the rest of his life. Thank you lord.
Kimberly (Isaak's foster sister)

Please pray for Brent who has just recently relapsed with neuroblastoma. He is undergoing a bone marrow aspiration and line placement this week (1/9). Please check out his caringbridge page for more information.
submitted by Susan (Jordan's mom)
http://www3.caringbridge.org/ms/brentnason/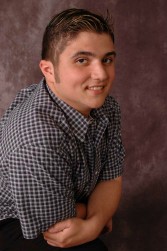 Please pray for Jordan who is undergoing treatment for an Optic chiasmatic/hypothalamic JPA tumor at St. Jude Children's Research Hospital.
Susan (Jordan's mom)
http://www.caringbridge.org/la/jordanamato/





Tracy and her sisters (April, Kimberly, and Ashley)
Please pray for Tracy who is undergoing treatment for ALL (leukemia) and her whole family.
Submitted by Elizabeth Sterling

Please pray for Kimberlee Smith. She is on her last 18 months of chemotherapy for a medulloblastoma tumor.
Teena (Kimberlee's mom)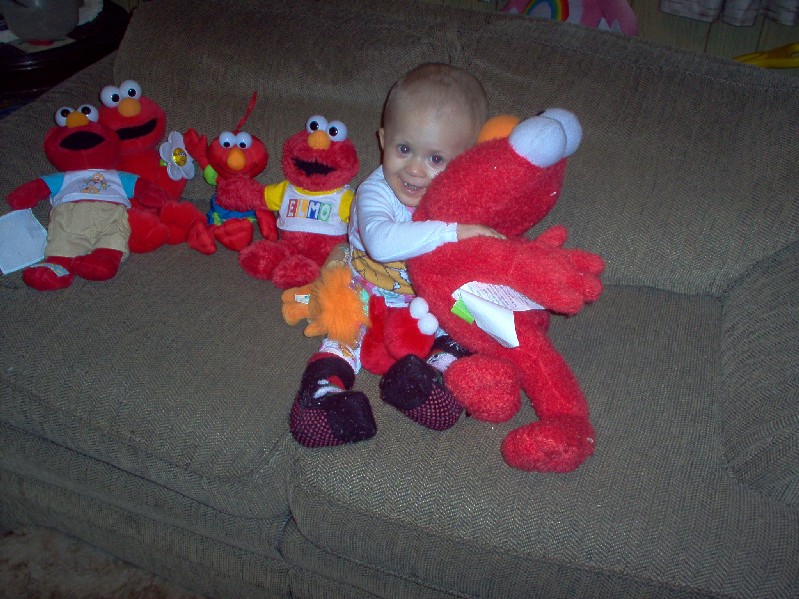 Navada died on Easter Sunday of a hemoragic stroke. She was surrounded by her family and died peacefully in her daddy's arms. Please visit the Butterfly Angel Page (link at the top left).
Lori (Navada's mom)

Elijah(note from mother below)
Please pray for Elijah Nelson 11 mo. Doctor thought that he might have leukemia, but praise the lord so far it has not gone that far. His white blood count is extremely high (20,000) and the doctors here in Johnson City TN are doing blood work every three mo. And if it does not increase they will just keep a watch on it. All we are asking for is for every one that feels and believes that they can get a prayer thru, to please do so. Thanks
Eli's mom, Missy
Update from Eli's mom :
This up date is to inform all of you who have prayed me Elijah and our family. I took him back to the doctor yesterday(1-23-06) and they discharged him. The dr. said that his leucocytes are still elevated but the blood smears look cancer free and normal. PRAISE THE LORD!!! We will keep each and every one in our prayers as well. Thanks and God bless J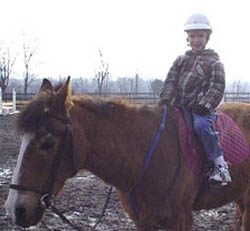 Sam on a pony (see Sam above with Bennett Grabey)
Urgent prayers needed!!! Sam is making a trip out to Oregon this week with his family to get more assistance from his doctors. Please pray for this family to have a safe trip, and for Sam's healing. Please visit his website for more information. www.caringbridge.org/pa/samspage
Sam became an angel in September. Please visit the Butterfly Angel page.-E.S.

Bonnie Claire (note from parents below)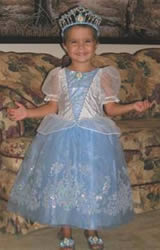 Thank you all for your prayers. I know God is at work in this situation, and when He is revealed...I know His glory will shine.
I am just going to lay it out there...Bonnie's cancer has come back into both lungs. She will go in the hospital on Thursday, with surgery on Friday. The surgeon will try to get one of the tumors, or as much of one as possible, in order to get a pathology report. That report will dictate the extent of radiation and chemotherapy she will undergo. My heart is on the ground. My head aches so badly I think it will explode. Bonnie is singing and playing and loving life. My heart breaks more each time I imagine how I must tell her. We avoided radiation last time, but, no avoiding it this time. And, the chemo will be "extremely intense" this time. As hard as this part is to type, since I said I would lay it out there...I am going to lay it out there. Her prognosis is "not good."
OK...there it is. We are in prayer that when they open her little chest on Friday they will see NO SIGNS OF CANCER.
"My Father! If it is possible, let this cup pass from Me. Yet not as I will, but as You will." Matt. 26:39
God has given our family strength , and I know He will be with us through all of this.
"Just as the sufferings of Jesus flow into our lives, so does the comfort of Christ overflow."
Thank you for your prayers, and for your love. We will keep you posted as best we can. We are so thankful for each of our prayer warriors.
With sincere love and appreciation,
Dave and Mary 'beth (Bonnie Claire's parents)
http://www3.caringbridge.org/nc/bonnieclaire/
As of August 5, 2005, Bonnie Claire was again found to be cancer-free! -E.S.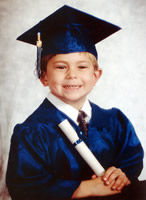 Our seven year old son, Drake Dahn, was diagnosed at age five (15 days before his 6th b-day) with medulloblastoma. The tumor had spread to another place in his brain and two places on his spine. After two brain surgeries and treatment at St. Jude, the tumor in the brain is reduced and the spinal tumors gone. Drake went from being in kindergarten and playing basketball one day to laying in bed and not moving or talking for four months. He is recovering but it has taking so much work on his part. He can talk, walk with a walker and his brain is functioning as it should. Thankfully, our last MRI on February 5th showed no cancer! We have been very blessed. We ask that you help us pray for a full recovery, that the cancer will never return to his body, and that his mind and body are restored to health after the treatment he has undergone. You can visit his site at www.caringbridge.org/tx/drakedahn
Thanks,
Wade, Katie, Drake and Gillian
Drake is doing well in terms of his health and with school. They return to St. Jude January 16th for his checkup. -E.S.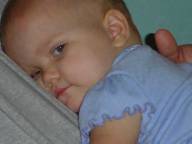 God gave us a beautiful baby girl on September 26, 2002. We had an amazing first year and watched her grow and learn and laugh. What a joy she is. On her 1st birthday, September 26, 2003, she underwent brain surgery at Scottish Rite in Atlanta to remove a mass in her brain. Tests revealed that she had medulloblastoma, an aggressive form of childhood brain cancer. Thankfully the cancer had not spread. She will receive 2 years of chemotherapy.

The last 4 months have been the most challenging of our lives. Catie had many complications after surgery. They included very significant clotting in her brain, 2 brain bleeds, a staph infection in her brain, and fluid complications that necessitated 4 more surgeries. God carried her, and us, through it all, and He continues to hold us in the palm of His hand. We know that the prayers of His people are heard and we would be very grateful if you would add her to your prayer list.

We are so grateful for all God has done in our lives in the last 4 months. We are thankful for the support of the community we live in. We are thankful for the peace that only He can provide. Thank you for your prayers.

Jenny (Catie's mom)
http://www.caringbridge.com/ga/catie
Catie's tumor returned after radiation, and she has undergone another surgery. She is recovery from that now and will begin chemotherapy soon.-E.S.

Bennett G. (note from mother below)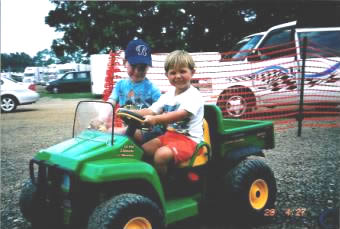 Bennett G. is the driver. His friend, Sam (passenger), also has a brain tumor.
I am the mother of a 4-year-old named Bennett Donovan Grabey. On April 7, 2004, seven days after his 4th birthday, Bennett suffered a massive seizure affecting the left side of his body. He was taken by ambulance to Reading Hospital (PA.) where it was found he had a mass in his brain. From there he was life-flighted to Children's Hospital of Philadelphia (CHOP).
It was determined he had a brain tumor in the top right portion of his brain. Surgery was performed on April 30th and the tumor was removed. It's taken the pathologists @ CHOP, and several from around the country, to determine what they "think" is his diagnosis ... a VERY VERY VERY rare form of Primary Brain Sarcoma. Bennett's neuro-oncologist @ CHOP recommends we begin the strongest dosage of radiation for 6.5 weeks beginning immediately, in addition of a year's worth of chemo .... to treat something they're not 100% certain he has.
My husband & I decided to get a 2nd & 3rd opinion ... one from the Children's National Medical Center in Washington, DC, and the other from John's Hopkins in Baltimore. We'll monitor him with frequent MRI's for the next month or two. For now we're trying alternative treatments and putting our trust in God to save our baby's life.
We'd truly appreciate all the prayers we can get for Bennett's healing, wisdom to know what to do, and strength for our family, which includes Bennett's 12-year-old sister Katelynn. Thank you.
Sincerely,
Kelly (Bennett's Mom)
UPDATE...
Bennett's story is one of hope. We were told we'd be making his funeral arrangements by the end of last August (2004). On April 20th he celebrated his 5th birthday, something doctors said he'd never see. As far as an update ... we're still doing what Dr. Minturn @ CHOP told us to do ... "Continue doing EXACTLY what you've been doing; it's working and it's much better than what we could do conventionally without the side effects." We're continuing to buy organic food, make our own bread, monitor Ben's sugar intake, and buy the tinctures (from our alternative doctors) that Bennett takes every day. We praise God daily for His blessings, and for healing Bennett, and hope that we can reach more people by letting them know that there are treatments out there, besides what the doctors know, that might help their children.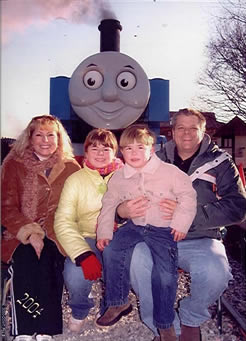 Emily (note from mother below)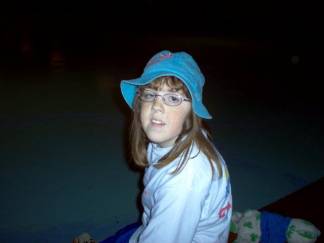 Emily is 13 years old and in her short life time she has been through a lot. At birth Emily was born with heart defects and has had 3 open heart surgeries, cleft palate surgery and 7 ear surgeries. Then 8 years ago, June 1996, Emily had an Grand Mal Seizure, and then was DX with Brain Tumor called Optic Pathway Glioma. The tumor did nothing for 6 1/2 years. In December, 2002 Emily had an MRI, and it showed that the tumor had doubled in size. The only option of treatment was Radiation. Surgery was not an option. As of May 2004 the tumor is stable. We are so thankful for St. Jude and what they have done for Emily. We ask you for prayer for our daughter to continue to stay stable. Her next MRI is August 2004. Please visit her website: http://www.caringbridge.org/il/emilymcellen/
Thanks,
Pete, Kim, Renee and Emily
Emily is doing well. Her tumor is stable, but she is very tired. -E.S.