25 brave souls take part in the 5th Annual Polar Bear Ride and Plunge
Despite questionable weather more than $1700 raised
1.1.2008- Here are links to several news stories about the event...
Third Annual Fanny Brrr ride and Polar Bear Plunge starts off the New Year
Largest group of cyclists come out to support the Blue Butterfly Fund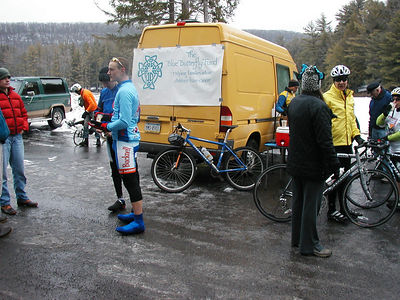 Riders gather around the Blue Butterfly Van for warm cider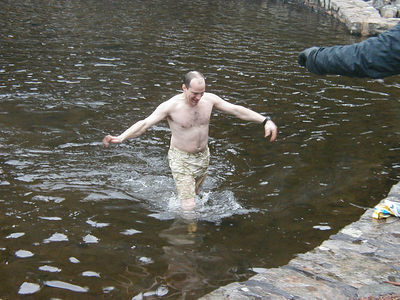 Is he cryin' or smilin'? Angel Bennett's dad takes the plunge for the first time
1.1.2006- Fifty cyclists participated in the third annual Fanny Brrr ride and Polar Bear Plunge on New Year's Day. Of those riders, about 20 took the plunge into the icy waters of Halfway Dam before making the 13 mile return trip. Despite dares to reveal more than necessary, all plungers wore a complete and appropriate bathing suit. Fannies froze despite efforts to keep them covered! The Lake above the spillway for the dam was completely frozen over and many ice fishermen were drilling through thick layers of ice to fish in the always cold water below.
Some may wonder why riders in this event take the plunge. Some will tell you they do it to remind themselves they are alive. And to do so to raise money for children who are fighting cancer helps to motivate them also. More than $2000 was raised this year to help families whose children have cancer.
A big thanks to Scot Wagner of Buffalo Valley Outdoors for his help organizing this event and to Mike Kryzytski, Nancy Cleaver, Helen Morris-Keitel, Betsy Van Buskirk, Gary Leighton, Mike Sterling, and Katie Benner for their help the day of the event.
This event marks the 2nd anniversary of the Blue Butterfly Fund.
Link to article which appeared on the front page of the Daily Item, Sunbury, PA:
http://www.dailyitem.com/archive/2006/0102/local/stories/07local.htm
Link to more pictures: http://mishak.smugmug.com/gallery/1086985/1

Second Annual Blue Butterfly Blues Night brings out the crowds and raises funds for a great cause
More than $3000 raised
11.19.2005- The New Crusty Suspects opened the show for the second Annual Blue Butterfly Blues Night playing for a crowd over of over 200 people. The festive event featured local Blues favorite The Blind Chitlin Kahunas who rocked the house and got the dance floor moving.
Between the two Chitlin sets door prizes were given and the silent auction winners were announced. The winner of the Marc Williams pendant of our logo was Lucy Haggenstaller, who claimed "I never win anything!" was present to receive the necklace.
Many thanks go out to supporters of the event including the following businesses that donated items for our silent auction and door prizes, helped with PR, and sold raffle tickets and/or event tickets:
The Billtown Blues Association
Bleu Plate Cafe and Cookshop
Brookpark Farm Inn
Brookpark Pet Supply
Brookpark Golf
Bucknell Administrative Services
Campus Theatre
Deb Slade
The Dragonfly Inn
Good Time Charlie -WQSU-FM
Indigo Hair and Nail Salon
Jasmine Loney, M.T., of Energy Works
Judy Muchler
Wayne Lepley of The Daily Item
Kimbo Reichley
The Lewisburg Club
Marc Williams Goldsmith
Michele Moohr
The Natural Food Store
PenSylvania Calligraphy
The Rockstation
The Shop at Oak and Ave (Melanie Williams)
Sterling Woodworking
Sunset BBQ Sauce
Terra Sylvan
Yuengling Brewery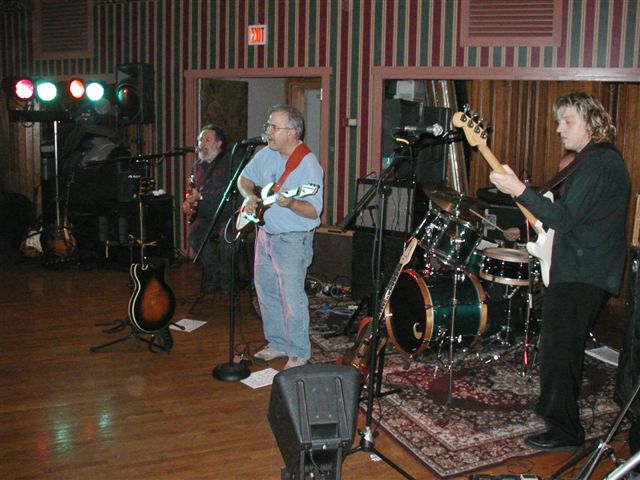 The New Crusty Suspects make a special rare appearance
at the 2nd Annual Blue Butterfly Blues Night.

Hot Rods and Hot Pavement
Blue Butterfly Fund Car Show a Success
9.18.2005 - Owners of eighty three cars, trucks and motorcycles came out to show their stuff and support the Blue Butterfly Fund in the first Blue Butterfly Fund Car Show. More than $2000 was raised through the registration fees, 50/50 raffle, and the Longaberger basket raffle. A big thanks to all the volunteers who endured the heat to help organize and run a great car show. And another big thanks to all the sponsors of this event:
Ritz-craft

Country Cupboard

Wehr's Beverage

Indigo Hair Salon

Mifflinburg Glass Shop

Village Service Center

Mifflinburg Bank and Trust

B.Z. Motors

Selinsgrove Ford

Mifflinburg Lumber and Building Supply

The Beer Barn

Steve Shannon Tires

Buck's Service Station

Fisher Federated Auto Parts

Mifflinburg Decorating Center

Paul Stine Chevorlet

Mike & Dot's Bar and Grill

Burger King

D & L Soft Pretzels

Valley Video

John Wilcox Mifflinburg Lanes

Ghena Benner Longaburger Baskets

Creative Image

Inkspot Printing

Middleburg IGA

Hummel's Napa

Middleswarth Potato Chips

Domino's Pizza

Windy Hill Lane

Lynn Kerstetter

Debbie McAllister

The First Blue Butterfly Car Show to be held September 18
Volunteers organizing antique car show in Mifflinburg, PA
8.20.2005 -On September 18 we will be helping families whose children have cancer by having the Blue Butterfly Benefit Car Show. The car show will be held from to rain or shine at John Wilcox Mifflinburg Lanes and Burger King in Mifflinburg, PA. Registration is from to . There is a $12 registration fee for participants showing their cars. There is no fee for viewing these beautiful cars. There will be cash awards in all 13 car and motorcycle classes, door prizes, a Longaberger Basket raffle, 50/50, sound system and more. We are looking for local businesses who would like to donate cash or door prizes for this special event. All donations are tax deductible. If you would like to make a donation or more information about the car show call Ghena Benner at 966-1944 or Laurie DeLong at 966-0250.

Fanny Brr benefit ride raises awareness and funds for the Blue Butterfly Fund
Riders enjoy warm temperatures and plungers endure freezing waters for a greater cause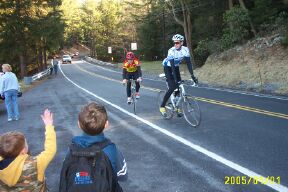 Riders reach the dam and are greeted by an awesome crowd.
1.1.2005 - Thirty-six cyclists came out on the first day of the New Year to participate in the annual Fanny Brr benefit ride in memory of Bennett Sterling. A dozen or so folks took the extra step of plunging into just above freezing waters at Halfway Dam in R.B. Winter State Park. Overall, about $5000 was raised by the event to support families whose children have cancer through the Blue Butterfly Fund.
For the second year in a row, the weather was awesome. The temperature was in the 50's. But regardless of how warm the air temperature was, the water was frigid. The lake above the dam was frozen and ice fishers were out doing their thing despite the crowd that gathered to watch plungers do their thing, plunge into icy cold water. Two local papers featured articles about the event on their front pages! It is great to get that kind of awareness for the BBF.
The Blue Butterfly Fund thanks Scot Wagner for organizing the event. He and John Uehling have made a tradition of riding up to R.B. Winter State park for the plunge on New Year's Day for several years. Two years ago, they decided to raise money for the Sterling family through the ride. And last year, the ride became a memorial ride to benefit the Blue Butterfly Fund. This is the second year that the ride raised money for the Blue Butterfly Fund.
Since the Blue Butterfly Fund formed about a year ago, nine families who have children with cancer have been helped with direct financial assistance and emotional support. The money raised on January 1st will allow the Blue Butterfly Fund to continue to reach out with love and HOPE to families who are facing the medical crisis of pediatric cancer.
Elizabeth received almost $1500
worth of pledges.

The water is breath taking...

Awesome Turnout for the First Annual Blue Butterfly Blues Night
Blind Chitlin Kahunas and Post Postal Blues Bands rock the Lewisburg Club
11.20.2004 - More than 225 people came out to support the Blue Butterfly Fund at the First Annual Blue Butterfly Blues Night held at the Lewisburg Club in Lewisburg, Pennsylvania. The Post Postal Blues Band played the opening set. Kimbo Reichley's band the Blind Chitlin Kahunas played the second set.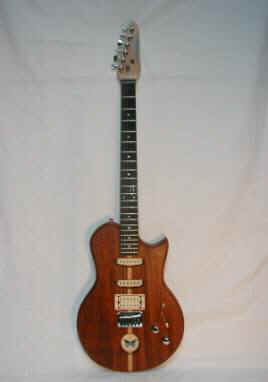 Vicki Smedley of Jersey Shore, PA is the winner of the Blue Butterfly Guitar. The Raffle raised $4800 to help families whose children have cancer.
The winning raffle ticket for the prized and much sought after Blue Butterfly Guitar, made by Tommy Patten's very own hands, was drawn during an intermission. The winner was Vicki Smedley of Jersey Shore, Pennsylvania. The raffle raised $4800 for the Blue Butterfly Fund. The winning bidders for the silent auction were also announced and several door prizes were given. The event was a huge success.

A Beautiful Day at the 1st Annual Blue Butterfly Family Fun Day!
The butterflies were abundant…
6.12.2004 - We had a picture perfect day on June 12th, for the first annual Blue Butterfly Family Fun Day. Kids and adults were seen enjoying all of the many activities that were available at R. B. Winter State Park as part of the event. There were butterfly crafts for all ages, a nature hike, a butterfly gardening talk, and a kid's adventure race. Sixty-nine people participated in the mountain biathlon and mountain bike races. At the end of the day, everyone was treated with good food and music by the band Porch Swing in the amphitheater. We received a lot of great comments about the event:
"Thank you for a fantastic event yesterday…The volunteers were
wonderful, the food was great, and thank god for colored t-shirts for a
change!"

"Great event! Had a great time."

"Great venue, volunteers, prizes, food, music, and, most of all, a great cause. To get live music and good food greet you after a race is a real treat."

"First, thanks for a great day. This was my introduction into racing… It was a great experience for me and I am glad my funds can go to a worthy cause at the same time."
One of the most amazing things about the day was the number of folks who came out to help us run this event. Between 45-50 people volunteered their Saturday to help the Blue Butterfly Fund put on a great event. It would not have been possible without their help! We are looking forward to planning an even better event next year.

The Hawaiian Luau Benefit Dinner is a Success!
Students raise more than $600 for the Blue Butterfly Fund
4.23.2004 - Nearly 100 people enjoyed a delicious Hawaiian dinner prepared by chef Scott Ferguson of The Moveable Feast Catering Company. The Confirmation Class at First Lutheran Church of Mifflinburg planned, organized, and served the dinner as a service project to raise money for the Blue Butterfly Fund. From ticket sales and donations at the event $638 was raised. This money will go directly to helping families whose children have cancer. Thanks to all the confirmation students, teachers, and parents for hosting this successful event!

Confirmation Students Raise Funds for the Blue Butterfly Fund
A Hawaiian Luau Dinner to benefit the Blue Butterfly Fund
3.3.2004 - As part of the First Lutheran Confirmation Class 8th grade program of study, students are required to stretch their faith with a Christian Witness event. The purpose of the project is to require the students to live their faith by prayerfully selecting, planning, organizing, preparing, and executing a faith witness project. Past projects have ranged from a simple sock-puppet skit for pre-schoolers to creating a published movie honoring past armed services veterans. This year's class has decided to provide a fundraising dinner for the Blue Butterfly Fund. If any of you have ever done a fundraising dinner, I'm sure you know what a daunting task it is! So, for this group of 10 confirmation students to challenge themselves and their faith with this project is an awesome witness to their love of God and others.

I am urging you to support this effort through the purchase of dinner tickets. The dinner will be held on Saturday, April 17th at 6:00 pm in the First Lutheran Church social hall, 404 Market Street in Mifflinburg. All proceeds will benefit the Blue Butterfly Fund.

Tickets are: Adult - $7.50 and Children under 10 - $5.00. I am hoping you can support this fundraiser either through purchase of dinner tickets or a donation. Please contact Steve Benner at 966-9383 or email me and I can see that someone who is selling tickets will get in contact with you. Thank you in advance for your support.

Blue Butterfly Fund Supports the Red Cross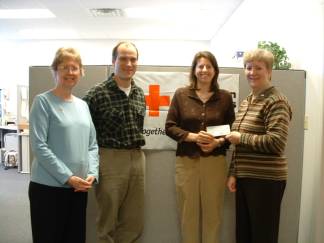 Check presented to the Union County Chapter of the
American Red Cross
2.25.2004 - John and Elizabeth Sterling present a donation from the Blue Butterfly Fund to Polly Patterson, Executive Director of the Union County Chapter of the American Red Cross, while Nancy Libbey, Blood Services Coordinator, looks on. The fund was established in memory of the Sterling's son Bennett, who died of brain cancer in November 2003. Participants in the New Years Day Ride and Polar Bear Plunge at R.B. Winter State Park raised funds for the Blue Butterfly Fund in January. Elizabeth and John are currently planning a summer event for families.

New Year's Day benefit ride/polar bear plunge
Our first fund raiser is a success!!!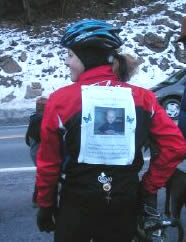 I dedicated my ride to the love of Bennett and some of his friends who continue to fight the battle against cancer. We love you Aidan, Danny, Drake, Matthew, and Martina.
1.1.2004 - New Year's Day more than 35 people participated in a benefit ride to raise money for Bennett's Blue Butterfly Fund. After registering at Buffalo Valley Outdoors (Scott Wagner's bike shop in Mifflinburg), the group departed from the First Lutheran Church in Mifflinburg, PA. The riders rode 13 miles up to R.B. Winter State Park (9 miles of this is uphill). At the top of the mountain, the riders were greeted by a great crowd of spectators and supporters. Fifteen participants took a polar bear plunge to start the new year off right before heading back down the mountain. Thanks to all who participated and donated! More than $4000 was raised by the event. Thank you, Scott Wagner and John Uehling for organizing the event! Thank you, Mike, for the warm van and hot soup and cider!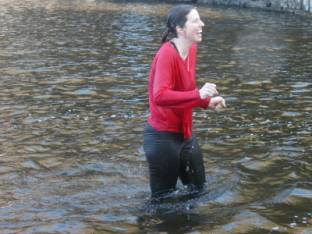 Here I am after the icy cold plunge into Raymond B. Winter Lake on New Year's Day, 2004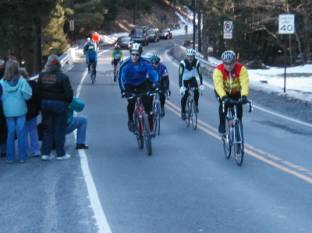 Some of the riders make it to the top of the mountain to be greeted by a great crowd of supporter/spectators.
>Click here to see more pictures from the 2004 ride!